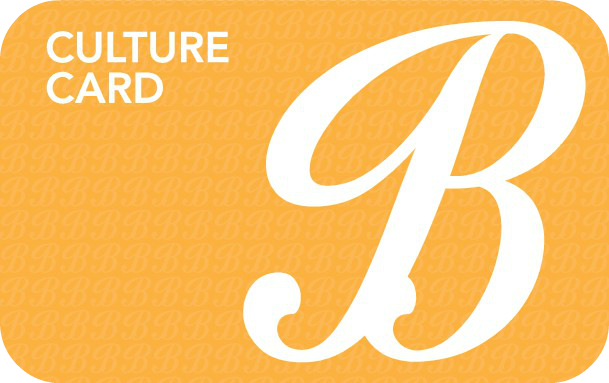 Culture Card
Terms and Conditions
Unless stated otherwise, offers and promotions are valid on one full price ticket/ purchase per transaction per card holder. The discounts are not available in conjunction with any other offer unless stated.
The Culture Card is valid until the date of expiry shown on the card and is strictly non-transferable.
A valid Culture Card must be shown on request at the point of sale to receive your highlighted discounts (members may be asked for proof of identity)
Culture Card acts as promoter of the offers and opportunities brought to us by our partners, and so cannot be held liable in any way for the failure of one or all of our partners to deliver what has been offered to a member within any part of the Culture Card.
Membership charges may be changed at any time.
Members may not sell, trade or transfer a Culture Card to another person, nor accept or use a Culture Card that does not belong to them.
Members may not sell, trade or otherwise promote any offer or promotion to the general public on third party websites or trading platforms.
Partners offering discount on the Culture Card reserve the right to withdraw or change their offer at any point. The Culture Card therefore cannot be held responsible if a member cannot claim a previously advertised offer.
Culture Card will ensure that each offer has an expiry date listed (if applicable) on the venue page of the Culture Card website. Please check before planning your visit.
No replacements or refunds can be offered for lost, stolen cards or damaged Culture Cards.
Whilst Culture Card will have used all reasonable endeavours to ensure that the information contained on this website is accurate, they shall not be liable for any loss, expense, damage or other inconvenience caused, in whole or in part, by reliance upon such information. The user of the information does so at his own risk.
Holders of The Culture Card recognise and accept that they visit any participating partners voluntarily and entirely at their own risk.
Opening times of participating partners fluctuate from time to time and Culture Card members are advised to check with the location concerned prior to visiting in order to ascertain the opening times.
These terms and conditions, and any agreement entered into in connection with the same, shall be interpreted in accordance with the English law and subject the non-exclusive jurisdiction of the English Courts.